The Cross, Grace, and My Favorite Gospel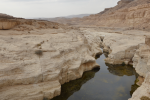 I'm not sure if pastors are allowed to have favorite gospels or not, but I have always been fascinated by Luke's account of the crucifixion more than the others. It is because Luke includes a conversation that is not included in the others. It's the conversation between the Jesus and the two criminals who are being crucified with him.
The conversation goes like this, from Luke 23:39-43, "One of the criminals who were hanged railed at him, saying, "Are you not the Christ? Save yourself and us!" But the other rebuked him, saying, "Do you not fear God, since you are under the same sentence of condemnation? And we indeed justly, for we are receiving the due reward of our deeds; but this man has done nothing wrong." And he said, "Jesus, remember me when you come into your kingdom." And he said to him, "Truly, I say to you, today you will be with me in paradise." (ESV)
Every time I read this I can't help but think about these two men. What led one of them to curse Jesus and the other to defend him? What kind of life did these two men lead that led them to be crucified on the same day as Jesus? Did the men know each other before this? Had these men heard or seen Jesus before?
So many of these questions we will never have concrete answers for, but one thing is certain in their conversation: One of the criminals understood grace and the other did not.
The first criminal who railed at Jesus joined the chants of the religious leaders and soldiers who mocked Jesus saying, "If he really is the Messiah, then let him save himself from this." For the criminal this statement was not one of faith, but displayed his true feelings that he was in this for himself. He was trying to get out of his punishment for his crime. Perhaps he had heard of Jesus' miracles and he was hoping for one more miracle that included him being saved from the cross.
But the second criminal realized that what he has done in his life was deserving on him being nailed to the cross. He knew that he was receiving the just punishment for his actions. Perhaps he too had heard about Jesus and all the miracles he had done and he was wondering how a man who was healing the sick and raising people from the dead could be guilty of crime deserving crucifixion. Moments before he had heard Jesus, through labored breathing say, "Father, forgive them, for they know not what they do."
In those moments, this criminal came to the conclusion that Jesus wasn't just another man hanging on the cross, he was the Son of God, offering his life for the sins of the world.
His one line to Jesus tells us all we need to know about the heart of this criminal, "Jesus, remember me when you come into your kingdom." Even as his lungs were beginning to give out his plea to Jesus was simply to not be forgotten by him. He knew that he deserved to die. He knew that he didn't deserve mercy or forgiveness. Yet as he watched his own blood drip to the ground, he heard the voice of Jesus say, "Today you will be with me in paradise." This man understood and received the grace of Jesus.
In our lives it is easy to forget our need for grace. As Paul says in Ephesians 2:8-9, "For by grace you have been saved through faith. And this is not your own doing; it is the gift of God, not a result of works, so that no one may boast." The Gospel of Jesus is good news to our souls because of the grace of God. That is why Christians are people who know what they deserve but cling to Jesus by faith.
As Easter approaches, may we take a moment to be like that second criminal to remember what we deserve and to remember that because Jesus died in our place that where there was once death in our lives now there is life. So may we live with grace to others and tell as many as we can about the audacious love of Jesus.