Seeing Everything Differently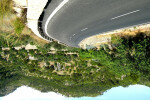 I remember when I was growing up being introduced to a kid's book series called "The Spirit Flyer." The series of book is about a boy that gets a magical "Spirit Flyer" bike that begins to lead him on journey to take on the bad guys and save people from danger. Many of the stories are allegories for the Christian Life. One of the things that I remember vividly from the series is that the main character gets a set of goggles that whenever he looks through them he sees into a deeper spiritual realm and what is really going on behind the scenes in people lives.
When we look at our culture, we have a value system that says the more we have, the more we are, or the more we can attain to, the better we are. The longer the list of our accomplishments, or the better looking you are, or even the healthier you appear, the greater of a person we are. We worship the images of perfection and success in our daily lives. But I wonder if we could look through those Spirit Flyer goggles, what would we see?
It seems that Paul in Philippians 3:1-11 is challenging the Philippians to see the world differently. He is challenging them to no longer put confidence in their accomplishments or in their abilities but to consider something better.
After listing all of his accomplishments as a Pharisee, which were many, he tells them, "But whatever gain I had, I counted as loss for the sake of Christ. I count everything as loss because of the surpassing worth of knowing Christ Jesus my Lord." (Phil 3:7-8)
Paul is reminding us that nothing on this earth we can accomplish or accumulate is even close to the joy of knowing and believing in Jesus. He even goes on to say that he wants to know Jesus so deeply "that I may know him and the power of his resurrection, and may share his sufferings, becoming like him in his death, that by any means possible I may attain the resurrection from the dead." (Phil 3:10-11) That even as we are drawn closer to Jesus by sharing in suffering it is better than anything we are able to accomplish with our lives.
Because of all of this we can rejoice in Jesus no matter the situation. As you head into today, may you see things differently. Look through those goggles and see how a Gospel lens changes the view. That nothing is greater in life the knowing and walking with Jesus. May we live in light if all that he has done.