Learning to Grow A Church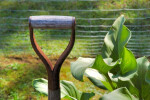 Planting a church has taught me a lot of things. (A LOT!!) Some of the most important things I have learned (and really feel like I have a lot of room to grow in) is from Ephesians 4:11-16. If you are around Iron Mill, you have probably heard me mention these verses (and you will keep hearing it).
This is what I have learned...
1. The people of the church are to serve and do the work of the ministry.
As a church leader, there is always the pressure to get to the "next big thing" but as this verse spells out that it is the role of the leader to equip the believers to do the work of the ministry. It isn't about what I can do as much it is about what we have been called to do together. Because it is the call of every believer to do the work of the ministry.
It sounds simple enough but when we all see ourselves as servants in the ministry that God has given us to proclaim his truth in our workplaces and communities, it changes our mentality toward the church community and our purpose in life.
For me, this means that it isn't my job to "do it all" as the pastor. My job is to build others up so that together we might have a wide ranging Gospel impact that I would never be able to have on my own. This how we are to "build up the body of Christ" through serving side by side and practicing our faith together publicly.
2. Unity and maturity are the result of service not study.
By this I don't mean we should stop studying the Scriptures, but rather that maturity comes through us using our gifts to minister to others and share the Gospel with them.
Having grown up in various churches, the focus to me has mainly seemed to lie heavily on teaching content and we have gotten really good at teaching content. We have bible studies for everything under the sun. We have Sunday schools, groups, and classes of various kinds. These are not bad in and of themselves. We need solid preaching and teaching. But without putting into practice and actually ministering to others we are merely absorbing content which does not lead to maturity.
I've heard this compared to learning to drive a car. You can learn about how to drive a car. You can learn how a car works. You can even read diagrams of the engine of a car. But until you get behind the wheel and drive you will never get good at driving a car.
I've learned that if I want to mature as believer and if I want the church I lead to mature, I have to help equip and encourage others to partake in the ministry together. We have got to get behind the wheel and drive. Again it is the role of every believer to drive in some capacity. Instead of adding more content, we should focus on how we can get people involved in ministry of various kinds because as we serve and love others, as we practice what we have learned, then we grow in unity and maturity as followers of Jesus.
3. We have got to get better at "speaking the truth in love."
"Speaking the truth in love" has become Christian-eese for I can say whatever I want as long as say it lovingly. I am not sure that this is what Paul was thinking when he wrote this to the church in Ephesus.
More and more what I have learned is that what we need is to help each other see how the Gospel applies to and shapes every area of our lives. When Paul says to "speak the truth in love," he is telling them to speak the truths of Jesus to one another over and over again. When we see a fellow believer in need of help or advice, give them more Jesus.
I heard recently that it is "the job of the believer to continue to believe in Jesus over and over." (Vanderstelt 2013) The longer we walk with Jesus the more we realize the depth of sin, the more we realize our need for his saving power in us, the more we understand our that our hearts need Jesus to save us.
As we walk through life as believers, we tend to give out or buy into self-help ideas or Christian platitudes about situations in our life or others lives. These are nice and often come from the right places, but what we need isn't advice on how to fix ourselves, we need to learn how to trust Jesus more and how the Gospel transforms that part of our lives as well.
This means we have learn how to give each other Jesus' truth in every situation. (Yes. Every.) We do this lovingly because we know that often when we talk about the Gospel, it reveals unbelief in our hearts and that can be a tough pill to swallow as it requires confession and repentance. But the Gospel is greater than all of our sin and unbelief. In it we find the power for salvation and the power to live transformed lives.
I've feel like I have learned a lot as church planter, but know that God isn't finished with me yet. I pray that as the people of God we can "grow up in every way into him" and be unified in our love for Jesus. May we mature in Christ together.