Why I Am Blogging Through the Gospels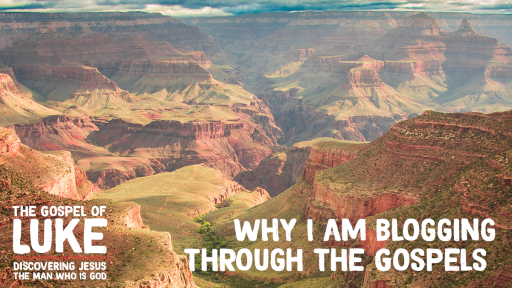 [Editor's Note: In just a few days our church will begin a three and a half month journey through the Gospel of Luke. As a part of that sermon series, we have prepared a reading guide that will take us through all four Gospels chronologically in those months. I hope you can join us for this wonderful adventure. (You can download the reading guide here.) Along this journey, I will also be blogging each day as we read through the Scriptures.]
I remember the very first time I saw the Grand Canyon. It happened when I was 10 years old and I was traveling with my family on a cross country road trip. I had seen pictures. I had heard about it in my elementary school classes. But none of that could do justice to standing on the edge of this canyon that was over a mile deep and 277 miles large. Even as you read those numbers now, they seem ambiguous. The beauty and awe of standing on that canyon edge is almost indescribable. If you have had the privilege of going out west to see it, you know what I am talking about.
In some ways, this is what knowing Jesus is like. You can go to church. You can be around Christians. You can read books about Jesus. These can all help paint a picture of Jesus but none of them will do Him justice like being in His presence.
I wonder what would happen in our lives if we stopped pursuing our own cultural, political, or even church-y caricatures of Jesus and focused our hearts on pursuing to know Jesus, the God who walked among us and fulfilled God's redemptive plan. What would happen in your life? Where would the Holy Spirit mold your heart? Or change your thinking? How would you view the world differently through knowing Jesus?
In the opening of his Gospel, Luke writes, "it seemed good to me also, having followed all things closely for some time past, to write an orderly account for you, most excellent Theophilus, that you may have certainty concerning the things you have been taught." (Luke 1:3-4 ESV) Luke tells Theophilus that he is writing down what has happened so that Theophilus and others may have certainty of who Jesus is and how God's redemptive plan has unfolded through the work of Jesus. Just as it was in Luke's day, in our age of information and pluralistic views, it is easy for us to hold onto an incomplete or incorrect view of who Jesus is. This is true even in the church.
This is why one of the reasons we as Christians are to commit ourselves to seek the presence of God through the Bible and prayer. It is because we need to keep our eyes on Jesus...the real Jesus...not what we want Jesus to be like...or what someone else has told us Jesus is like...we need to know the real Jesus who calmed the sea, healed the sick, broke down cultural barriers, died for our sin, and is alive today. We need to discover Jesus a fresh way in our lives.
I need that. You need that. So let's seek Him together. Let's walk up to the edge of canyon of grace and be in awe of who Jesus is and what He has done.
That is why for the next few months, I will be blogging through our church's reading guide. My hope is that through my writing, it will encourage you to encounter Jesus, read the Scriptures, and seek Him daily. I also pray that it helps you to strike up conversations about what God is doing in your life and that it gives you boldness to talk about Jesus more.
Would you join me in seeking Jesus together? Would you commit to daily taking time to seek the presence of Jesus through the Scriptures and prayer? If you want to join and follow along with us, download a reading guide or grab one at our church. If you have questions about how to read the Bible or pray, please reach out to us and let us know at . We would be happy to walk through this with you.
Together, let's discover Jesus in a fresh way this winter.