Whiter than Bleach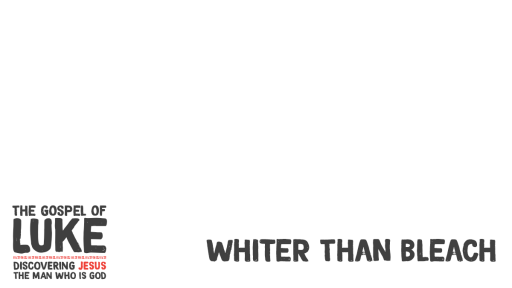 When something incredible happens in the Bible that goes beyond human explanation, the people of those moments are left trying to describe it in a way that we can understand.
In our passage today, Mark 9, we see what we call the Transfiguration. It is the moment when Jesus is "transfigured" and his full glory is apparent. It is a powerful reminder of the deity of Jesus and his relationship with the Heavenly Father. The disciples Peter, James, and John are there to witness this event. As they seek to explain what it is they saw that day, Mark records one of the details this way, "his clothes became radiant, intensely white, as no one on earth could bleach them." (Mark 9:3) It seems like a random description but gives us an important reminder: The glory of the Lord is indescribable, awe-inspiring, and beautiful.
How does a comment about Jesus laundry give us this deep insight?
As Christians, we can often elevate Jesus humanity or his divinity unevenly. When we elevate his humanity, we can fall into the trap of worshiping Jesus as a good teacher or simply an example to follow. When we elevate his deity, we lose the power of his sacrificial atonement and his role ad mediator between God and men. But in my experience in the church today, I have found that we elevate his humanity more so than his deity. I believe that we need to be reminded of the power and glory of the Lord. We need to be awe-inspired again! We need to have a growing fear and respect for Jesus from whom radiates glorious perfection.
A proper awe for the glory of God is needed as the antidote in our lives for pride. It is needed as a reminder of our need for Jesus. It is needed for proper worship. When we are in awe of the Lord, everything becomes ordered and the universe makes sense.
What do you need to do to recover the awe of the Lord? Time in the Scriptures? Confess your sin? A quiet moment to praise the Lord?
Today, let us be again in awe of the glory of the Lord. He alone is holy. He is perfect in every way. Let us worship him as so. Thank you Mark for talking a little bit about laundry.