Two Powerful Words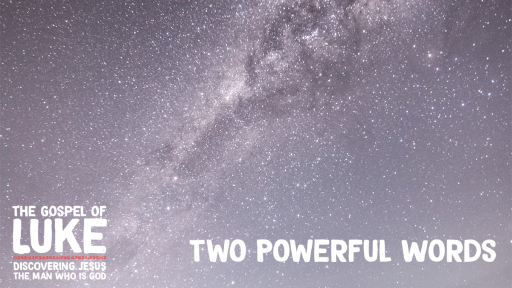 Sometimes when we read the Bible it is difficult to get the full effect of the moment. Whether that is because of the differences in culture or our misunderstanding, there are moments that we read in the Scriptures that were emotionally charged, powerful moments that we simply read and go on to the next paragraph. In our reading today from John 8, there is one of these moments and it reaches its most powerful moment when Jesus seemingly says two innocuous words, "I am." (If you want to join us in reading through the Gospels, pick up one today in our Scripture reading guide.)
At this point in the Gospel of John, it is clear that the religious leaders are out to get Jesus. In John 8:48, they don't even hide it as the come at him with an accusation and a racial slur. As Jesus responds he doesn't even address or respond to the slur, instead he addresses their accusation that he has a demon and performs his miracles through the power of that evil spirit. His response to them is quite simple from a Gospel standpoint, but you can see that didn't understand what he was really saying.
He tells them very plainly, "I don't have a demon, but honor my Father..." His denial of their accusation becomes an opportunity to give glory to God the Father. As he gives glory to God, Jesus makes the statement that those who "keep his word, will never see death." Jesus is plainly talking about salvation through faith in Jesus but the religious leaders take this again as a blasphemous statement. Again they challenge him and say, "Now we know you have a demon!" They say this because they are worshiping their status as descendants of Abraham.
In verses 54-57, this leads to a discourse from Jesus about how true followers of Abraham would have received him because by faith Abraham looked forward to Jesus' coming. You can sense the growing tension and anger from the religious leaders as Jesus says he knows Abraham better than they and they if they were true followers of Abraham they would be different. The tension is escalating because Jesus is challenging their false religious system and incorrect beliefs. The Gospel truth is offensive to all of us.
As the push farther, they come to place of saying, "How is that you say you have seen Abraham?" Then Jesus says those seemingly innocuous words that sets them off. He says in John 8:58, "Truly, truly, I say to you, before Abraham was, I am." The next verse says they picked up stones to throw at him. On the surface, it might seem that that escalated quickly, but when we understand the deeper meaning of what Jesus says it reveals a powerful revelation about.
If you go back in to the Old Testament, God reveals himself to Moses as Yahweh. The literal translation of this is: "I AM THAT I AM." It is another powerful moment in the Bible, where God reveals his personal name. From this point on the Jewish people worship God as Yahweh. In most of our English translations of the Bible this is not written out this way. Instead out of respect for the name of God, it is written in all caps, LORD. (If you get a chance, look through the OT and look for the different usages between the lower case, Lord, and the upper case, LORD.)
Back in our passage today, then when Jesus says, "I am" he is using the Greek words for the name of God. In essence, Jesus is saying I am the true and living God. I always have been, always am, and always will be God. He is proclaiming to them to be God.
This is why they grabbed stones to throw at him. They considered him a blasphemer and a liar. They wanted nothing more than to see him disappear. Such was their hatred for Jesus.
As we reflect on this today, it is important for us to consider for ourselves the significance of Jesus claiming to be God. If Jesus is God, who always was, always is, and always will be, it has deep impact on our lives. This statement requires us to ask a big question, "Do I worship Jesus as the true and living God?"
To help us with that, I would like to take us back to the Old Testament again in the book of Deuteronomy. In Deuteronomy 6:4-5, the Shema, says this, "Hear, O Israel: The Lord our God, the Lord is one. You shall love the Lord your God with all your heart and with all your soul and with all your might."
You might recognize this as Jesus quoted it when he spoke on the Greatest Commandment. But if you want to ask yourself how you can respond to Jesus being the True and Living ask the Spirit to help you answer these questions...
Do I love God with all my heart?
Do I love God with all my soul?
Do I love God will all my might?
From there talk with God about it more, confess any sin to Jesus and turn toward greater worship in the Lord. Together may we be a people who worship Jesus all the more because as God, he is worthy.