The Final Journey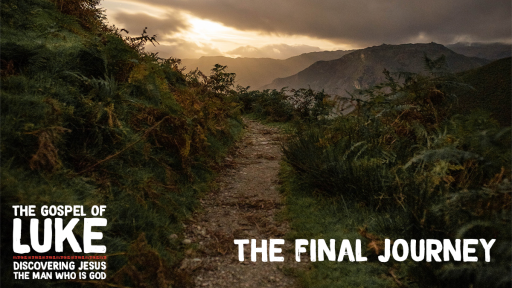 The loving patience of Jesus with his disciples is beyond comprehension.
In Mark 10:32, we learn that Jesus is traveling to Jerusalem. We find out from Mark 11 that this would be Jesus final journey to Jerusalem this side of his resurrection. What this means is that all of Mark 10 is taking place on Jesus' final walk through these places. After 33 years on this earth, Jesus is walking toward the place of his suffering. He is going to face the most difficult thing he will ever face. Remember Jesus was so filled with anxiety over this that he would sweat drops of blood later in the Garden. He knew this was his last journey. He knew what was waiting for him in Jerusalem.
He knew. This was why in Mark 10:32-34, he tells them very plainly, "See, we are going up to Jerusalem, and the Son of Man will be delivered over to the chief priests and the scribes, and they will condemn him to death and deliver him over to the Gentiles. And they will mock him and spit on him, and flog him and kill him. And after three days he will rise." Jesus told them exactly what was going to happen.
Now we don't know how long there was on the journey between that moment and the next when John and James come to Jesus and ask him a bold question. They ask him if they can sit on the right and left of Jesus in glory. They are asking if they can be in the places of honor in Jesus kingdom. Apparently the rest of the disciples catch wind of this and they are none too happy. They begin to argue among themselves about who is the greatest.
Step back for a moment and picture the scene. Jesus has spent the last three to three and a half-years discipling and caring for these men. Jesus has performed miracles they couldn't imagine. Some of them saw Jesus transfigured. Some called Jesus the Messiah. Jesus has told them plainly that this is it. The end of his life is going to come when they reach Jerusalem and that he will rise again. Jesus is literally walking to his death and what is the disciple's response...to argue over which of them is the greatest.
I don't know about you, but if I was in Jesus' shoes. I feel like this is the moment where I flip out and start yelling, "Don't you get it!! Have any of you been listening to anything I have said?" If Jesus would have done this, I don't think any of us would have lost any sleep over it.
However in his endless grace and compassion for the disciples, Jesus pulls them aside and begins to teach them even more about the truths of leadership and why he came in the first place. I picture it like a mother getting all her kids who are squabbling to be quiet because she is getting ready to drop a big truth bomb. Jesus tells them, "You know that those who are considered rulers of the Gentiles lord it over them, and their great ones exercise authority over them. But it shall not be so among you. But whoever would be great among you must be your servant, and whoever would be first among you must be slave of all. For even the Son of Man came not to be served but to serve, and to give his life as a ransom for many."
Even as he is walking toward his crucifixion his desire is to see these men grow to know and love God. He is literally living out what he is saying: That if we want to be great, we must serve. The disciples have missed the point and have begun to argue about being the greatest and Jesus responds by serving them. Why? "For even the Son of Man came not to be served but to serve, and to give his life as a ransom for many."
We worship a gracious and patient Savior. I pray that today we would discover Jesus as such. That we would seek to serve others instead of seeking glory for ourselves as we remember that Jesus willingly walked toward his death because he wanted to redeem us.