Rest for Your Soul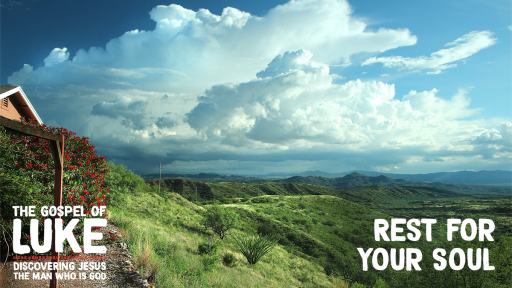 True rest is something that each and every one of us longs for. True rest isn't simply relaxation or a break from the routine. True rest is peace and healing for the soul from knowing we have been forgiven and that we are loved deeply.
In our reading today from Matthew 11, Jesus speaks of true rest, but as he does, notice he does it in connection with a conversation about his relationship with God.
When we read 11:25-29, Jesus talks about the "yoke" that he bears. I think sometimes that when we consider the "yoke" that Jesus bears, our minds can often turn to the rules and commands of Christianity. When we think of the "yoke" in this way it doesn't sound very "easy" or "light." When we view the yoke of Jesus in this way he leads us to a path of futility as we strive and fight to find that rest but it remains eleusive as we feel that we cannot bear the weight of it or live up to the standards of Jesus.
We often miss the most beautiful and wonderful part of this passage. We want the rest for our souls that Jesus describes but instead of chasing after it or trying to take it on under our own strength, Jesus paints a different picture. Look again at the context of Jesus' words. Before Jesus mentions rest in Matt 11:28, he talks about his relationship with God the Father. He is speaking about what it means to live with and know God. Then in Matt 11:27, he says that know one knows the Father except those who the Son chooses to reveal him to. In the next verse, we see Jesus give the invitation to to come and receive rest from him. His invitation to receive rest flows out of his relationship with God.
This tells us that the rest we desperately long for in our lives is found in a deep relationship with God through the person and work of Jesus. If we want true rest, we will find it as we come to Jesus and surrender our sins, our burdens, and our lives to Him. There we enter into a relationship with God. In that relationship we can know the peace, healing, forgiveness, and love that comes from being a son or daughter of the Father.
As we consider that for our own lives today, I wonder how many times, even as Christians, we try to take back our yoke and pursue rest on our own terms. We strive to do the right things, or simply unplug enough, in order to find the special head space we call "rest" yet we end up feeling restless as we cannot seem to find the rest that we long for.
We were made to find rest, not in our accomplishments, abilities, or religious vigor. We were made to find rest in being a forgiven and adopted child of God.
If you are restless today, may you find true rest for your soul in Jesus. May you embrace your status as as a loved child of God and may you enjoy the blessing of loving and following Him.