Premeditated Murder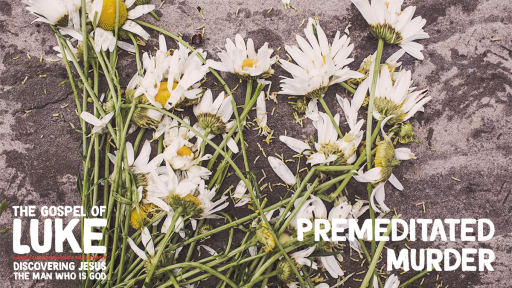 As we get to today's reading in our Scripture reading guide, we come to a familiar and very powerful passage: the raising of Lazarus in John 11. We see Jesus' humanity in his response to sin and death. We see Jesus' deity as he raises Lazarus from the dead and proclaims that he is the Resurrection and the Life. Every time I read this passage I am powerfully reminded of who Jesus truly is.
As powerful as this moment is, the end of the chapter is a very sobering reminder of how people can respond to the Gospel. If you need to, go back and read John 11:45-56 again.
What we see is that it seems the greater the miracle Jesus performs the more the Jewish leaders hate him. Essentially, they hear Jesus raises a man from the dead and their reaction is, "This guy has to die." There are other moments where they declare their hate and try different things to hurt or challenge Jesus but in John's Gospel this is clear turning point in their desire to see Jesus dead. Worse still is that their excuse is that they need to do it to save the nation of Israel. They are justifying the premeditated murder of Jesus!
As we consider this in our own lives today, we must realize that much of the same is true when it comes to how people respond to the Gospel. The greater that God is at work around us the more we will see people believe in Jesus but also we will see people's hatred of God grow more intense.
While this can be sobering to us, it should not surprise us. The Gospel is offensive. It was offensive in Jesus' day. It is offensive today. As we speak of Jesus' crucified and resurrected, this truth is going to be offensive. There will be people that not only look at us funny but will be hostile to us.
What should our response be? Shy away? Grow angry?
This was Paul's advice to Timothy, "Therefore do not be ashamed of the testimony about our Lord, nor of me his prisoner, but share in suffering for the gospel by the power of God, who saved us and called us to a holy calling, not because of our works but because of his own purpose and grace, which he gave us in Christ Jesus before the ages began, and which now has been manifested through the appearing of our Savior Christ Jesus, who abolished death and brought life and immortality to light through the gospel, for which I was appointed a preacher and apostle and teacher, which is why I suffer as I do. But I am not ashamed, for I know whom I have believed, and I am convinced that he is able to guard until that day what has been entrusted to me. Follow the pattern of the sound words that you have heard from me, in the faith and love that are in Christ Jesus. By the Holy Spirit who dwells within us, guard the good deposit entrusted to you."
What's Paul's advice? Do not be ashamed of the Gospel. Follow Jesus in faith and love. Make Jesus known, even in suffering. Bring glory to God.
Today, may even in the moments where we sense anger toward what we believe may we hold firm to the truth that Jesus is the Resurrection and the Life. He is our hope, our love, our live, now and forever.