Power in Humility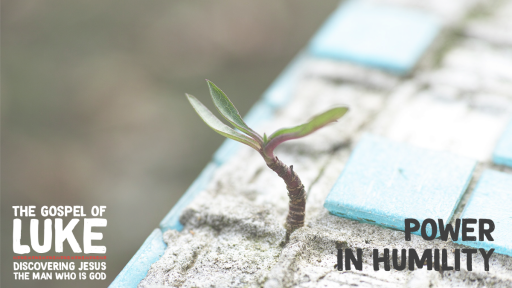 The Population Reference Bureau estimates that at the time Jesus was born (0-3AD) that there were 300 million people on the entire earth. That sounds like a lot to us, but there are over 350 million people in the USA alone today and over 7 billion in the world.
One thought I had today when reading the birth of Jesus in Luke 2 was how many people actually realized something major was going on in Bethlehem. Bethlehem is a much smaller town that I realized. In 2007, the Palestinian Census records 27,000 people in Bethlehem but as you go backward in time that number shrinks dramatically. According to Ellen Miller, who studied the Ottoman Empire in her book Eastern Sketches, wrote that in 1867 there were only 3,000-4,000 people in Bethlehem. That is an extremely small town.
When you think that of all millions of people alive at the time of the birth of Jesus, the fact that only a few thousand were there to witness (and likely they all didn't get it either) it demonstrates the "smallness" of the coming of Jesus.
In this I am again struck by the humility of Jesus. He didn't come into the big city with pomp and circumstances. He came to a small hillside village and his kingly proclamation was given to the shepherds in the field.
From our perspective, it is hard for us to fathom why Jesus would come this way. If we were writing the script, we would have him come with great pomp and circumstance. We would want as many people to know as possible. We would want to make sure that this baby got everything he needed and that the parents had everything perfectly set up for this coming King. Yet in the almighty power of God, this was not what he choose. Jesus choose to come humbly. He choose to come without recognition. He choose to come like a servant.
His humility demonstrates the power, majesty, grace, and love of Jesus even more so. Paul explains it this way when he writes to the Philippians, "Have this mind among yourselves, which is yours in Christ Jesus, who, though he was in the form of God, did not count equality with God a thing to be grasped, but emptied himself, by taking the form of a servant, being born in the likeness of men. And being found in human form, he humbled himself by becoming obedient to the point of death, even death on a cross. Therefore God has highly exalted him and bestowed on him the name that is above every name, so that at the name of Jesus every knee should bow, in heaven and on earth and under the earth, and every tongue confess that Jesus Christ is Lord, to the glory of God the Father." (Philippians 2:5-11)
It is for his humility and his obedience that he received the greater honor. In his humility, Jesus demonstrated ultimate strength. In his humility, he gave God the greatest glory.
We have much to learn from Jesus' birth. What would happen in our lives if we humbled ourselves like Jesus? What aspects of our humanity would we be able to reconnect with? How much healthier view of self would we have? How much glory would be able to give to God?
This again help us to discover Jesus in new way today