Our Protector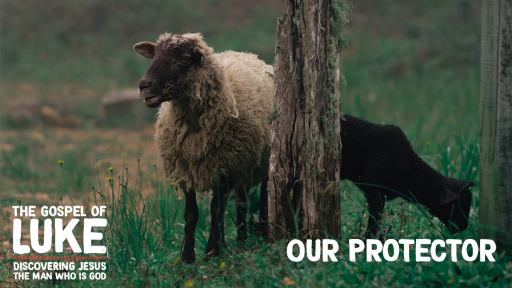 In our paintings and media, Jesus is often portrayed as a soft spoken, sash wearing, clean robe kind of guy. We can often, as Christians, forget that Jesus is anything but soft. On earth, he is a table throwing, bold preaching, deeply emotional, and hard working man. In his glory as portrayed in the book of Revelation, he is described as a warrior with eyes like fire who comes to destroy Satan and his armies. In other words, Jesus is strong in the most perfect ways.
As we read in the Gospel of John today, Jesus was speaking and he says to those listening, "I am the door. If anyone enters by me, he will be saved and will go in and out and find pasture. The thief comes only to steal and kill and destroy. I came that they may have life and have it abundantly." (John 10:9-10)
When we think of a door we tend to think of the fiberglass plank with a knob that we use to enter buildings but the picture Jesus portrays is much richer than that. In those days, when night was approaching a shepherd would gather his sheep into a pen. Most of these pens were large rock circles with a small open entrance. Once all the sheep were safely inside the shepherd would sit and/or sleep at the entrance to the pen to serve as both their protector and actual door so that they could not get out. So to be the door for the sheep means not only that they were the gatekeeper, it also was a way to protect the sheep from wandering off into the night.
In this way Jesus is our protector and our keeper. As Paul says in Philippians, "the peace of God will guard your hearts and your minds in Christ Jesus." Part of Jesus gift of abundant life is that he would serve as the door of our lives.
I was reminded of this in a personal way today as I was asked about my ministry journey. I wish that I could tell you that it was full of all amazing things. But that simply isn't true. We have faced some difficult situations and dealt with some difficult people. In the middle of those though, we seen Jesus guard our hearts and minds in special way. He has constantly reminded us of who he is. He has helped us to depend on him more and more. He has reminded us of his love for us and that that never changes. He has given us peace in turmoil. He has grown our compassion for others. None of this would have been possible if we had not walked through those difficult things but if we had walked through them without the protection of the Lord we most likely would have been left with deep bitterness and resentment.
Today, be reminded that Jesus is strong. He is the strong door not only to judge, but also to protect. Seek him as that protector. Trust him with your heart and mind. May you see him be your strong guard and lead to you pastures of joy and peace with Him.