New Eyes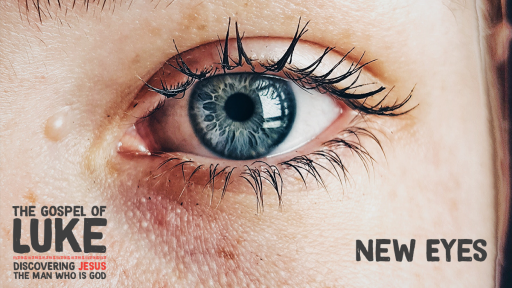 Every morning when I get up, I put on my glasses. My prescription isn't terrible, but it's enough that when I put them on there is a noticeable clarity to the world around me. Sometimes I think my eyesight without my glasses isn't that bad, but then I put them on and am reminded that my vision is quite blurry.
What if our understanding of God is like this? I wonder if we often go around (without our spiritual glasses) observing the world one way when in fact we are missing the clarity of a greater reality.
This seems to be what happened to the disciples as they walked with Jesus. In Mark 6:51-52 of our reading today, the Spirit brought these verses to my attention, "And he [Jesus] got into the boat with them, and the wind ceased. And they were utterly astounded, for they did not understand about the loaves, but their hearts were hardened."
The disciples had just witnessed Jesus walk on water during a rough night at sea and when he gets back into the boat, Mark records that they were astounded. He mentions that they were astounded not only because they saw Jesus on the water but because they didn't understands the earlier miracle of the feeding of the five thousand. It is a fascinating connection that I had never noticed before. The disciples lack of spiritual perception of Jesus as Lord during the feeding of the five thousand led them to not recognizing that it was Jesus walking on the water. Their hearts were hard to understanding who Jesus was and what he was doing.
Later on we know that for most of the disciples their eyes are opened to the truth of Jesus after he is crucified and resurrected. In essence, Jesus gives them new eyes to see everything differently. He gives them eyes to see the world with a "Gospel prescription."
For us today, I wonder what it would it look like for us to ask Jesus for a clearer Gospel prescription of the world around us? What might happen if our spiritual perception was shaped by the person and work of Jesus?
I believe that we would know our value and worth more clearly as adopted children of God. I believe that our relationships would be healed and be filled with greater clarity. I believe that we would share our faith more boldly. I believe that we would work with greater motivation as unto the Lord. I believe that we would grow to see people with God's eyes of grace. I believe we would seek justice for the hurting and broken. I believe the Gospel would transform everything if we had new eyes to see the world as Jesus sees it.
Today, would you earnestly ask Jesus to know him more deeply? To see Him as he truly is. Would you express your desire for a deeper relationship with Him? Would you ask for new eyes to see Him and the world differently?