How Are You Building Your Life?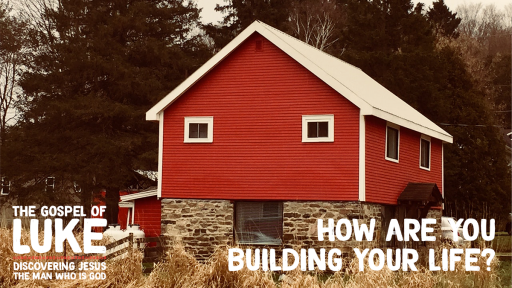 A few years ago, my wife and I decided to finished our basement as a way to make more room for our growing family. In order to finished it we had to cut into the foundation for an egress window, build walls, run electric, lighting, heating, and flooring. However, there was problem with this project. The problem was that I had never done anything like this before. I didn't know what I as doing.
Now I was fortunate to have family who knew what they were doing and offered to show me how to do things or made themselves available on the phone to give me advice.
All through this process I learned a lot about the structure of a room and important it is do things well when building a new room in your house.
When I got to the end of today's reading from Luke 5-6, as I read Jesus sharing the story of a wise man who built his house on a rock and a foolish man who built his the sand. Today I read this with a different light.
One of the things I learned from finishing our basement was the amount of work it took to do everything right. There were times where I messed up or didn't do it right and had to pull things apart and redo them. I could have pressed forward and covered it up, but it would have with a cost later on.
In this parable of Jesus, if you look that the text in Luke 6:46-49 more closely, you'll notice that the decision of the two men wasn't simply about whether to build on a rock or not. It was a decision of hard work. The man who built on the rock had to dig deep and do a lot of work before he could build the house. However the other man, took what he thought was the easier path and eventually lost all that he had. The path of least resistance left him susceptible to danger and ruin.
Jesus is sharing this story in the context of his most famous sermon. In this sermon Jesus teaches us a great deal about what it means to live by faith in relationship with Him. He shares this story as an illustration of what it looks like for those who hear his teaching and apply it in our lives.
For the most part, we would all say we want the house built on the firm foundation. However, it can be hard work to apply the teaching of Jesus into our lives. It can be hard work to surrender ourselves to the work of the Holy Spirit in us. Sometimes it is so hard that we try to cut corners, take the easier path, perhaps believe a more comfortable theology, or distance ourselves from those who would lovingly challenge us to grow.
When we do this, we become like man who built his house in the sand. We want the appearance of being spiritual. We want the feeling of having it all together. But when the storms come, our lives come crashing down around us.
Today, may we by faith, discover Jesus as the Good Teacher. The one who leads us into the hard work of surrendering our lives to Him so that we might be built on the Rock.