He Chose To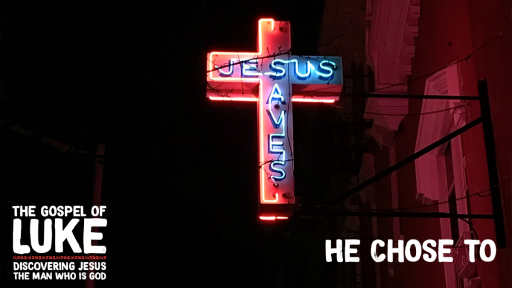 Sometimes I wonder if we consider all of the things that Jesus could have done to stop the crucifixion from happening. For instance, consider what Jesus says in Matthew 26:53-54 in our reading today. Jesus says, "Do you think that I cannot appeal to my Father, and he will at once send me more than twelve legions of angels? But how then should the Scriptures be fulfilled, that it must be so?"
The context of this is that Peter starts fighting back and cut off the ear of one of the high priest's servants. But within that moment we get this reminder that at any time, whether in the garden, or while he was being beaten, or even when the soldiers were driving the nails in, all Jesus had to do was request it and thousands of angels would have come to rescue Jesus.
But he doesn't. He could have, but he chose not to.
Instead, Jesus chose death. He chose to be separated from God the Father. He chose to allow himself to be ridiculed and beaten. He chose to because he loves you. He chose to because he wanted to save and redeem the people he loved so dearly.
As we approach Easter this coming weekend, discover Jesus in a fresh new way. Realize that Jesus could have stopped the torture at any moment, but instead he chose to die, so that you might live.