Grow Cold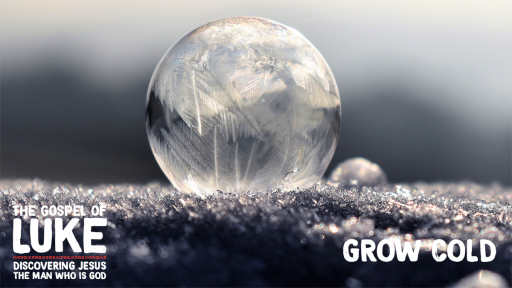 The Gospel of Jesus Christ is offensive and divisive. As the writer of Hebrews says, "it penetrates even to dividing soul and spirit, joints and marrow." This is why it is not surprising that when Jesus describes the end of the age in Matthew 24 that we see greater anger and brokenness on the earth.
Within that though there are two verses that seemed to highlight some of the current dangers we face as well. In Matthew 24:11-12 it says, "And many false prophets will arise and lead many astray. And because lawlessness will be increased, the love of many will grow cold."
With the rise of false teaching many will abandon the faith. With the increase of lawlessness, many will cease to be loving.
While I do not claim to be an expert and would not seek to even guess at the timing of the return of the Lord, I do believe that there is an element where we see things happening around us.
There is a great deal of false teaching outside and inside the church. There is a watering down of the Gospel and it's power. There is a loss of the centrality of Jesus to all of life.
There is increased division and lawlessness. There is a loss of love for one another, especially for those who do not believe the same things that we do. This is not a fake or falsified love for personal or political gain, but genuine love and desire to see people know Jesus.
If this is the case, what are we to do? What can change this? The Gospel of Jesus Christ. Jesus is our only hope. Whether it is the transforming power of what he has done on the cross or what he will inevitably do when he returns, all of it leads to the hope we have in him.
As followers of Jesus, we can have hope. We can be optimistic that because of Jesus things will turn out for the better whether in this life or the next.
Together let's discover Jesus as our hope. If sense our love growing cold, may we return to him. Let us question any false teachings and compare them to the Gospel. May we persevere until Jesus returns!