Greater in Christ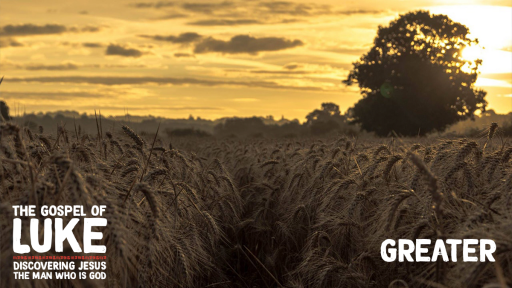 In our reading today we come to Luke 7. This includes one of my favorite passages in the Gospels, but as much I want to write about it...I'll save that for my sermon on Sunday.
Instead I will focus on a statement Jesus makes that is a bit confusing but should encourage us greatly today.
In Luke 7:28, Jesus says, "I tell you, among those born of women none is greater than John. Yet the one who is least in the kingdom of God is greater than he."
Jesus says this in the context of conversation he is having about the ministry of John the Baptist as the transitional prophet between the old and new covenants of Scripture. In this statement his is also telling us that those who are the least in the new covenant of Christ is greater than the greatest of the old covenant.
For us today, this means that Jesus is saying that as amazing as it was to be at the Red Sea with Moses, or see Elijah defeat the prophets of Baal, or be there for the glory of Solomon, this would not compare with the salvation that Jesus offers to us. Those people would have wanted to trade places with us.
Even though it doesn't always feel like it, we live in the era of the greatest revelation of God. Jesus says that the Kingdom of Heaven as come and is coming through what he has done. We can know and experience God at work in us through the Holy Spirit in ways that previous generations longed for.
We don't often think of our relationship with Jesus in this way. But because of the gift of the Holy Spirit we can have a greater relationship with God. We can experience greater presence of God in our lives.
Why? Because the new covenant of Christ, which he shed his blood for, is greater.