Grace and Determination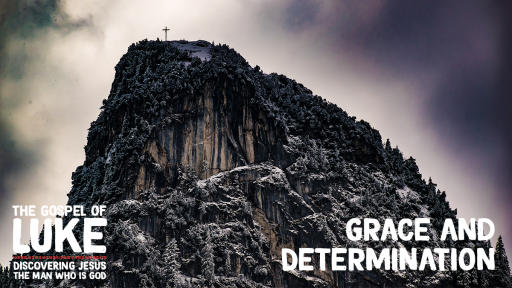 If you have been tracking with us in our Scripture reading, you have probably realized that many of the stories this week in each of the Gospel are very similar. This is because we are approaching the time when Jesus enters Jerusalem for the last time to be crucified.
One of the things that has come up in each of the Gospels these last few days is the moment where Jesus pulls the disciples aside to tell them that when they get to Jerusalem that he is going to be condemned to die. He tells them very plainly that he is going to be mocked, flogged, crucified, and risen on the third day. (Matt 20, John 12, Luke 18, Mark 10)
I hope that reading this over and over has reminded you of a very simple Gospel truth: Jesus was determined to die for the sins of the world.
Consider what it would be like to know that in number of weeks that you will be mocked publicly, stripped naked, falsely accused, beaten, whipped, spit on, and nailed to a cross. If we knew that that is what would happen to us we would run the other way. We would run as fast as we could. Yet this is not what Jesus does. Instead, he continues the march to Jerusalem. He continues to heal, teach, and love on his disciples and the people around him.
In this we see a level of determination to the grace of Jesus. In his passionate love for his creation, he willingly walked toward his death to win for us the life that we could never have on our own. He was determined to pay the ransom for our sin. Nothing, not even death, was going to stand in the way of winning back the ones he loved.
I can't help but wonder if from time to time Jesus would look around at the people there with, or maybe he would see our faces, and remind himself, "I am going to the cross for you. I love you."
His grace is overwhelming. That he would do any of this for us is beyond my comprehension. Yet this is exactly what we wanted to do.
If you get the chance today, read the words of Jesus in Matthew 20:17-19 again. Take a moment to consider that Jesus knew exactly what he was walking into and kept going anyway.
This is the grace and determination of Jesus, the man who is God.