Got It Memorized?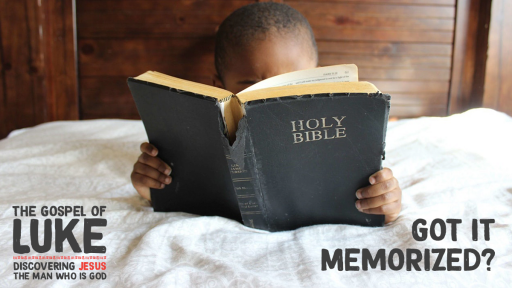 Not sure why this quote has stuck with me the way it has. Maybe it is the imagery. Or maybe because I know my own stubborn heart, but Martin Luther once wrote in his work St. Paul's Epistle to the Galatians, "Most necessary it is, therefore, that we should know this article [the Gospel] well, teach it unto others, and beat it into their heads continually."
I need the Gospel repeatedly beaten into my head. The word picture can sound a bit strong but it highlights the necessity of the truth to sink deep down into our hearts and minds. It is one thing to proclaim the truth of Jesus, it is another to believe it and speak it aloud in our lives.
This is what struck me about our reading today in Matthew 3-4. (You can read along with us with our Scripture Reading Guide.) When you look at Jesus in the wilderness being tempted by Jesus he quotes Scripture he has memorized. I realize that there is a great deal of theological significance behind the ways in which Jesus was tempted and what that means for us today. But what I found much more powerful was a bit simpler: in those moments of physical hunger and standing face to face with the enemy, Jesus spoke aloud the truths of God.
Jesus, who had been with God from the creation of the earth, didn't battle with sword. He didn't wrestle Satan in a death match. He quoted the written words of God to fight against the snares of Satan. The same written words of God that were available to others in that day.
In our culture today with almost everything digital, there is little need for memorizing anything. I don't remember phone numbers anymore. I don't memorize directions. Many of the things we used to have to memorize we simply don't need to anymore. One thing I am realizing in this is that this has become a disservice to us in the area of our spiritual lives.
In moments of temptation, we don't have time to run and grab Bible to find the right passage. We don't have time to throw open the Bible app and find the correct words for the battle taking place. We must be prepared before heading into the battles. Perhaps memorizing and having the Word of God with us permanently is an aspect of our faith we have set aside too easily.
How would our lives be different if we learned to fight temptation with memorized Scripture? Through the power of Christ in us would our anger subside? Would our anxiety diminish? Would lust be replaced with intimacy with God? Would hope spring up into our lives in a fresh way?
I wonder what would happen in my life and your life if we began to write these truths into our hearts. What "it is written" moments do you need in your life right now?
A couple quick practical things come to mind with this. Pick out a area of temptation for you and search the Scriptures for the verse that leads you to trusting Jesus with that particular area of your life. For example, if worry is a major temptation for you, consider memorizing Matthew 6:33 which says, "But seek first the kingdom of God and his righteousness, and all these things will be added to you." This verse is part of a larger teaching of Jesus about worry. However if you can only memorize a small portion of the teaching then choose the verse(s) that emphasize Jesus, so that you find yourself reaching out to Jesus in temptation and not trying to conquer it on your own.
Together let's discover Jesus through memorizing the truths of Scripture. May we live victoriously because of Jesus!