Faith Question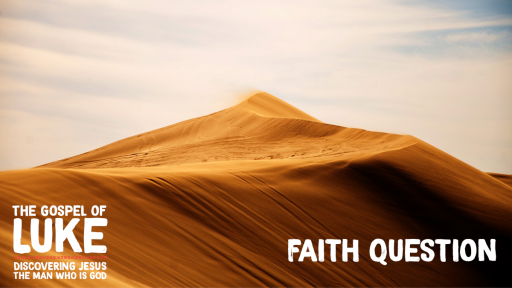 Many of my posts have been about observations and theology found as we have read through the Gospels, but today I would simply like to ask some hard questions. As I ask these questions, I am not asking them out of doubt, but out of a desire for a deeper understanding of my relationship with the Lord.
If you are following along with us, today we read Matthew 17. In the center this chapter, Matthew 17:14-22, Jesus brings up the question of faith as it relates to him working in the lives of the disciples. If you haven't read it take a few moments now to read as this will make a lot more sense if you've read it.
There is an epleptic child who is suffering terribly, who we understand is possessed by a demon. That child is brought to the disciples and they are unable to cast it out. Jesus then heals the boy, but the disciples have questions. So they ask, "Why were we not able to cast it out?" Jesus tells them that it was becuase they had little faith. He then tells them that if they have the faith of a mustard seed they would be able to move mountains.
Now if you have ever seen or looked up a picture of a mustard seed, then you realize that they are indeed quite small. In fact, they are some of the smallest seeds on earth. As I consider this for us today, this is where my questions come in.
What does it look like to have faith like a mustard seed?
If we don't see great miracles or mountains moving, is it because we simply lack faith?
What does it mean to submit to the will of the Lord in our lives while asking God by faith for to do miracles?
There are plethora of other questions that spin off of these as well. I am sure that you can even think of specific situations in your life where you asked these kinds of questions in more direct way for your own life. These can be difficult faith bearing, soul searching, God seeking questions.
Now even as I write this I know some of the biblical responses to these questions and have wrestled with many of these in my heart. But I ask them again to day because I want to have a deepening faith in Jesus. I want to challenge myself and us to ask difficult questions. We have to recognize that following God is not merely a pursuit of answers but a pursuit of God himself. In that pursuit, we were not meant to have every question answered or be able to make sense of it. If that were the case, it would not be called faith. Also if we were able to figure everything out about God he certainly would not be a God worth worshiping. Yet even as we understand this we are left asking these kinds of questions.
Today, I would ask you to press in to these faith questions. Seek the Lord. Don't seek answers. Seek the Lord.
For as Hebrews 11 says, "without faith it is impossible to please him, for whoever would draw near to God must believe that he exists and that he rewards those who seek him."
Know that he will reward those that seek him!