Earnest Desire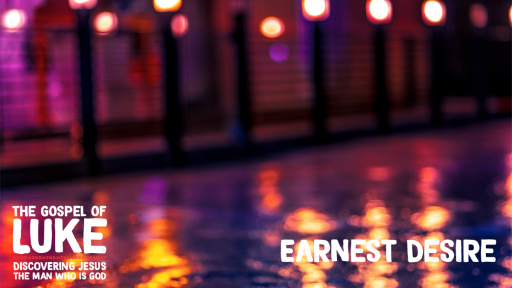 What is something that you have earnestly desired in your life?
As we read Luke 22 today, we find that Jesus earnestly to eat the Last Supper or Passover meal with his disciples. Luke tells us in Luke 22:15, "I have earnestly desired to eat this Passover with you before I suffer. For I tell you I will not eat it until it is fulfilled in the kingdom of God."
Even in the final hours of Jesus earthly life, his love for his disciples shines through. It is this bittersweet moment for Jesus as he knows that what is about to happen is going to bring great pain not only to him but also to his disciples. Yet he also knows that through that pain, God is going to fulfill the promise of salvation and the healing of the resurrection.
For Jesus this moment was not just another meal, it was the last moments of peace before the storm. It was institution of something new as Jesus takes the cup and bread and speaks of the covenant that is to be in his death and resurrection.
It was what Jesus earnestly desired. He desired to be with those he loved. He desired to usher in the new covenant. He desired to go to the cross for the salvation of the world. He desired to see all things made new in light of the resurrection. It was what he wanted.