Caring for the Sick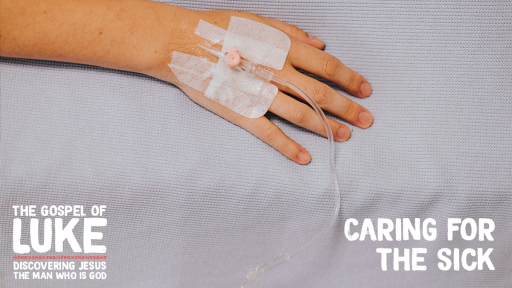 Having spent the last three years in a town with a large medical community, I have learned a lot about how doctors and nurses train and function both in the workplace and on a personal level.
This perspective has helped me to understand the words of Jesus from our reading today (Mark 1-2) in a different light. (You can read along with us with our Scripture Reading Guide.)
In Mark 2, when Jesus calls Levi (Matthew) to follow him. As a follower of Jesus, Levi invites his tax collector friends over to his house to have dinner with Jesus. Once the religious leaders catch wind of this they accuse Jesus of dishonoring himself by spending time with "sinners." Then Mark records "And when Jesus heard it, he said to them, 'Those who are well have no need of a physician, but those who are sick. I came not to call the righteous, but sinners.'"
Jesus drops this powerful truth about why He came to earth. He came to call sinners to repentance. He came to heal the sickness that only God can heal.
This is both a reminder for us of the grace of Jesus in our own lives and a reminder of the mission that Jesus has entrusted to us as believers. As Christians we are here to make disciples (Matt 28:19-20) and be witnesses of the Gospel. (Acts 1:8) Our purpose is to share the Gospel through words and actions so that people would know Jesus. Another way of saying this is that we are here to care for the sick around us and help them find healing and wholeness in Jesus.
As I have talked with doctors and nurses in the community, I have been blown away by the amount of hard work and dedication it takes to be medical professional today. On top of the work aspect, I have talked with many that speak of the difficulty of watching people suffer or the challenge of walking with people through a major health crisis.
Today, when I read these words of Jesus, I wondered about my own life and our church's. Have we taken that level of care and concern for the those in our community who are far from God? How would the Holy Spirit be able to use us if we boldly spoke truth into the lives of people around us? What does it look like for a church or a group of Christians to "eat with sinners" so that they might know who Jesus is?
If Jesus has cured the "sickness" in your own life and forgiven you of your sin, how are you doing in caring for the "sick" around you? What if in the midst of the messiness of loving others with the Gospel you discovered Jesus as the miracle working physician who turns the hardened heart of sin into the soft heart of life?