Become a Sower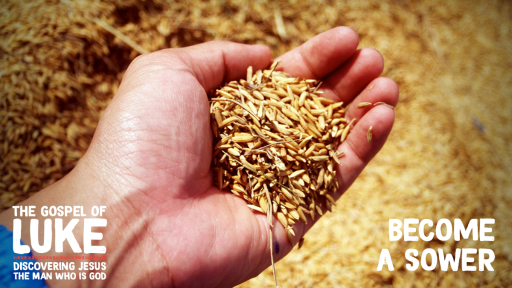 Jesus often spoke in stories as way to explain the Kingdom of God. We call them parables. The four Gospels are full of them. In today's reading (Matthew 13), specifically there are many of them and we even find Jesus' explanation for why he spoke in parables.
However as I read through this today, I was reminded again of the call that each Christian has to make disciples and share the Gospel. In the parable of the sower, Jesus starts the story with a simple statement, "A sower went out to sow." We tend to focus on the different aspects of the ground that the seeds fall into. But this simple statement reminds us that without the sower the are no seeds. Jesus later in Matthew 13 describes the seeds as "When anyone hears the word of the kingdom..." The seeds then are the truth of the Gospel of Jesus and the sowers are those who bring that truth to the fields. If then there is no sowing then there are no seeds regardless of where they fall.
In our context today, Jesus has entrusted us, by the power of his Holy Spirit, to be sowers of the Gospel. We are to be sharing and showing the good news of Jesus and spreading the seed into the world around us.
This parable also reminds us that our obedience to the Lord in this is to consistently and intentionally share the Gospel with others. The outcome of what happens when we do share it belongs to the Lord. If we love and share and many people come to believe that is amazing!! But if we love and share and people do not trust Jesus we are not somehow less obedient. However in this I believe that as we go out in boldness with urgency and compassion we will see many come to know and love Jesus.
Today may we again be reminded that Jesus is the Lord of the Harvest (Luke 10) and that we are to be sowers of the seeds of the Gospel. Who will we speak the life giving words of Jesus to this day and in the days to come?