A Different Kind of Anger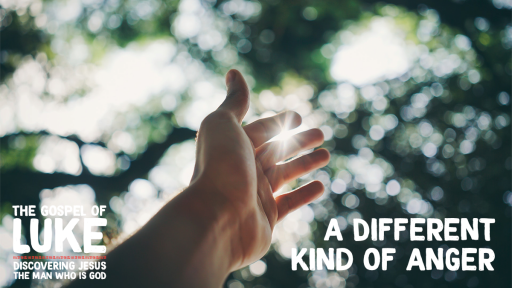 When you read through the Gospels, it isn't very often that we see Jesus get angry. We can forget that Jesus cracked the whip at the money changers in the Temple or that he called the Pharisees "whitewashed tombs." There were things that made Jesus so upset that the disciples took notice and remembered these moments.
If these moments were big enough for the disciples to remember and write down, perhaps they are big enough for us to dig a little deeper into.
In our reading for today in Mark 3, it tells us of a moment when Jesus was in the synagogue and there was a man who had a withered hand. However the Pharisees were observing Jesus with the intent of finding something wrong with him. Seeing this Mark 3:5 records the actions of Jesus when it says, "And he looked around at them with anger, grieved at their hardness of heart..."
Jesus saw this need of this man with the damaged hand. He saw the glaring eyes of the Pharisees. He then looked around at them with anger. I wonder what that would have been like. What does it look like when God the Son looks around the room in anger?
More than his angry look though, what was it that made him so angry? Mark tells us...he was grieved at their hardness of hearts.
Jesus was angry because they didn't get it. These religious leaders were closed off and insensitive to the brokenness of their world and the mercy of God. Jesus is angry because in their self-righteousness they had lost sight of the sin in their own hearts and this had made them callous to the hurt in the world around them. Their hardness of heart to the things of God brought out a grieving anger from God.
As I reflected on what this means for my life, I felt led to ask myself, "Do I get angry at the same things that made Jesus angry?" Am I sensitive to the brokenness of sin in our world and its need for healing? Am I open to be used by God to love people in their brokenness and point them to Jesus?
As we discover Jesus we realize in an increasingly deeper way how much we need him and how much his grace is the foundation for our lives and for our ministry to the world around us. Today may we discover that Jesus too got angry. He got angry at those who were cold in their self-righteousness so may we learn to love and show grace like Jesus.