The chief need of every city or village is the Gospel of Jesus echoing from a planted church. - Jeff Medders
We believe that the Gospel leads us to be a multiplying church. It is more important to us to be a church that plants more churches than for us to be a big church.
MEET OUR CURRENT CHURCH PLANTING RESIDENT
BRANDON GLENN, Iron Mill Church Planting Resident 2021-2023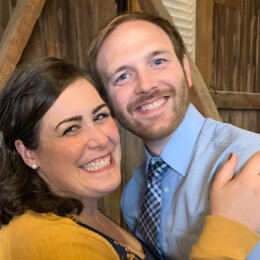 Hello! My name is Brandon Glenn, and I am the church planting resident at Iron Mill Church. We are thrilled to be part of a missionally minded community of believers, committed to seeing the gospel spread through church planting and multiplication! We are involved with a two-year greenhouse program that is broken up into four phases, each lasting six months. The phases are Look, Learn, Lead, Launch. Each phase has nine different areas of learning: prayer, preaching/teaching, coaching, teamwork, community/small groups, evangelism/disciple making, credentialing, education, personal growth and formation. These nine areas will remain the same throughout each phase, but the activities in each phase will change. As part of these phases, I will be required to complete a few tasks per learning area as well as reading books to aid in my growth. If you would like to keep up to date on the planting process, see our prayer requests, or support us financially, you can check out my website www.plantgrowsend.com.
CHURCH PLANTING RESIDENT APPLICATION
With multiplication as our aim, Iron Mill Church is seeking church planters for 2023 to be sent out into our nearby central PA region.
As a part of our Church Planting Residency, each resident will serve on our ministry staff for up to 24 months of preparation and training. This will help the planter to be immersed in the life and leadership of Iron Mill, give them experience in existing and new ministries, and give them the support needed to prepare a core group as the move toward launching a new church. We envision our church planters as being a part of the team rather than "out there" on their own.
Each candidate for our Church Planting Residency should have a strong call toward church planting, a passion for reaching unchurched people, and a deep desire to be a part of a Gospel-centered, multiplying church. Those being considered will undergo an extensive assessment process as this helps us to discern both the candidate's gifting and help us to prepare a personalized development plan for that candidate.
If you would like to be considered for this opportunity, please be sure to read the job description below and submit your resume (including links to sermon audio/video) to .